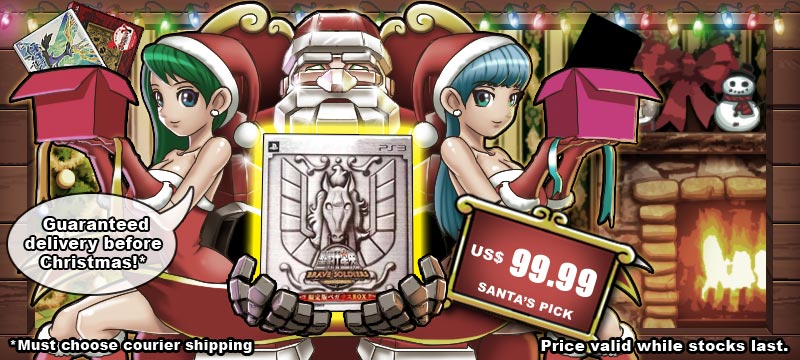 檢索條件
瀏覽更多
將會發行
我們最受歡迎產品
US$ 81.99
US$ 69.90
US$ 73.99
US$ 24.99
US$ 78.90
US$ 74.99
US$ 72.99
US$ 199.99
US$ 56.99
N/A
即將結束的拍賣
產品資料
按此可將縮圖變更大的圖像於
Death Smiles IIX







兼容性
詳細描述
Death
http://www.play-asia.com/death-smiles-iix-paOS-13-49-zh-70-3r7e-47-cat.html
Smiles II, the sequel to the hugely popular Death Smiles is coming in May. This is not only a port, but a upgraded version. The graphics are updated to full 16:9 HD splendour. Look at the screen shots, the gothic fantasy world and their fire spitting monsters have never been so beautiful.
Besides visuals, we have two more characters, Roza, affiliated with a fairy and Foret who has a dragon. Let's see what stories and their special bullets they have.
Meet the new monsters and bosses. The Xbox360 version has two new stages, Meiro - Shiroi yami no naka (Labyrinth - In the White Darkness) and Hairakuen - Mihatenu yume no kuni (Forgotten Paradise - Land of the endless dreams). http://www.play-asia.com/death-smiles-iix-paOS-13-49-zh-70-3r7e-47-cat.html. Fly into them and test your skills against the new bosses Tartarus and the Mad Teddy and Bunny.
This is a game everybody can enjoy, like the previous installment, you can choose the difficulty settings according to your own skills.
規格
| | |
| --- | --- |
| 原本的名字 | デススマイルズIIX(通常版) |
| 發行日期 | 2010年05月27日 |
| 語言 | Japanese |
| 類別 | 射擊 |
| 版本 | 日本版 |
| | CERO B (12+) |
| PAX-Code | PAX0002979131 |
| 產品目錄號 | 2RF-00001 |
| 產品編號 | 4988648728080 |
對此有興趣?
有用連結
客戶意見
平均等級:

(5 out of 5)
總共投票:
8
如果你熟悉這產品 Death Smiles IIX, 何不跟我們分享你寶貴的意見 ?
顯示最後 5 個評論,總共有 26 個評論。 以下評論只代表顧客的個人意見,一概與Play-Asia.com無關。
Bronco (20) on 23, Apr. 2012 18:22 (HKT)
Underrated
This series doesnt get anywhere near as much attention as it deserves

qqloh (11) on 07, Mar. 2012 16:41 (HKT)

Can't stop playing this game....nice!

awe.of.she.1 (49) on 22, Dec. 2011 10:44 (HKT)
Cave does it again!
While the game is much easier than other Cave titles, it doesn't make it any less enjoyable.

Another fantastic job by Cave!
e_pedraza_g (241) on 02, Dec. 2011 11:47 (HKT)
Great Smup
A Nice sequel. This one uses environments and characters entirely rendered in polygons... so it requires a bit of time getting used to...
akira251 (4) on 31, Oct. 2011 02:14 (HKT)
Incredible Game
Takes the concept of the original Deathsmiles game and runs with it: more characters, 3d graphics and great soundtrack.

The gothic artwork is outstanding and provides a sppoky world to get lost in.

Buy it (especially now it's coming out with a platinum price!)
請按此查看進一步的探討於
Death Smiles IIX
---
相關產品
---
---
---
---
---
減價產品
在我們網頁內列出的商標是屬於原有創作者所有。如您有關任何版權或商標問題,您可以 聯絡我們Play Asia 及標誌屬 Play-Asia.com 所有的商標. 網頁及內容版權 2002-2013 Play-Asia.com.