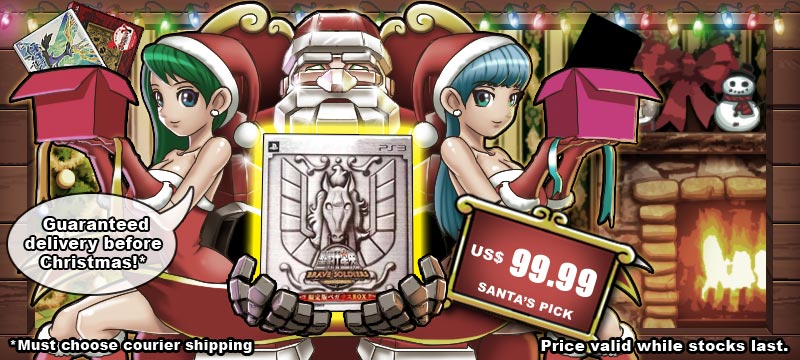 檢索條件
瀏覽更多
我們最受歡迎產品
US$ 10.99
US$ 19.99
US$ 14.99
US$ 19.99
US$ 28.99
US$ 28.99
US$ 13.99
US$ 32.90
US$ 20.90
N/A


Final Fantasy II (Favorites)
Square Enix
適合於 Sony PSP (PSP)
美國版 , 沒有區碼保護 / 角色扮演
會於 1 - 2 星期內寄出
產品資料

貨品暫時沒有存貨,如果有興趣購買,我們可以為您跟進追蹤。要追蹤產品,我們需要你
登入
或
建立戶口
按此可將縮圖變更大的圖像於
Final Fantasy II




詳細描述
Originally
http://www.play-asia.com/final-fantasy-ii-paOS-13-49-zh-70-1vi8-47-cat.html
released in 1987 in Japan, FINAL FANTASY® was hailed by gamers and critics alike as one of the first RPGs to create a fantasy world that captured the imagination of players around the globe. Twenty years later, the illustrious FINAL FANTASY franchise comes full circle: remastered as two separate titles exclusively for the PSP® system, FINAL FANTASY and FINAL FANTASY II are timeless classics that created the blueprints for the future of RPGs. These all-new 20th Anniversary editions are treated with crisp, updated graphics, an unforgettable enhanced soundtrack and a vibrant widescreen presentation. http://www.play-asia.com/final-fantasy-ii-paOS-13-49-zh-70-1vi8-47-cat.html.
In FINAL FANTASY II, a malevolent emperor has called upon monsters from a demonic realm to take over the world, ending what seemed to be an eternal period of peace. From the destruction rise four young survivors who will take it upon themselves to stop the merciless ruler and avenge the death of their parents.
規格
發行日期
2007年07月30日
類別
角色扮演
版本
美國版
ESRB Teen
只適合 13 歲或以上人士。本物品可能可能含有暴力,溫和及 / 或粗俗語言,及 / 或挑動色情的題材。
PAX-Code
PAX0001487585
產品目錄號
ULUS-10263
產品編號
662248907048
有用連結
客戶意見
平均等級:

(5 out of 5)
總共投票:
22
如果你熟悉這產品 Final Fantasy II, 何不跟我們分享你寶貴的意見 ?
顯示最後 5 個評論,總共有 23 個評論。 以下評論只代表顧客的個人意見,一概與Play-Asia.com無關。
leo23 (66) on 04, Apr. 2013 23:50 (HKT)
Great
Great Game Best Price
Thank you
hy00ga (324) on 10, Jan. 2013 09:54 (HKT)
great. remake
overall good remake
Burnmonkey (145) on 17, Mar. 2012 17:22 (HKT)
FF2...
I would say this is one of the worst games in the FF series, but It's a quality remake. Good deal for the price.
fraser.penning (3) on 17, Jan. 2012 03:01 (HKT)
FFII a must have for any PSP collection
High quality remake
fraser.penning (3) on 17, Jan. 2012 02:58 (HKT)
A Final Fantasy Must Have
A great remake of a classic RPG that defines what it was all about!
請按此查看進一步的探討於
Final Fantasy II
---
相關產品
---
---
---
---
減價產品
在我們網頁內列出的商標是屬於原有創作者所有。如您有關任何版權或商標問題,您可以 聯絡我們Play Asia 及標誌屬 Play-Asia.com 所有的商標. 網頁及內容版權 2002-2013 Play-Asia.com.