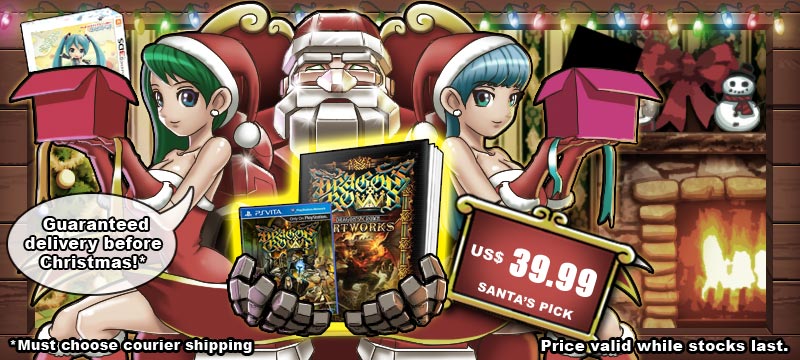 浏览
探索更多
即将发售
最受欢迎产品
US$ 21.99
US$ 44.99
US$ 119.90
US$ 46.99
US$ 29.99
US$ 33.99
US$ 17.99
N/A
US$ 19.99
US$ 66.90
Closing Auctions
产品讯息
点击查看放大的图片




featured review
Kiri_No_Haku (5) on 26, Dec. 2007 09:27 (HKT)
Best Game I Ever Played for Naruto

I just opened this today and I gotta say its the best I've played so far. Its annoying at the beginning since you can't unlock the first character until after 70 fights (or complete story) but once you're past that part, it's heaven. ^^
特征
The story will expand on the episodes of the popular television series
Game characters include favorites like Naruto, Sasuke, Sakura, and Kakashi; along with some new to the Clash of Ninja series and some fighters developed especially for the title
Game will feature an original opening movie created by Studio Pierrot, rendered cinematic sequences and widescreen (16:9) and progressive scan at 480p
Players can fight in story mode, one to four-player multiplayer versus mode or other new exciting battle modes for the ultimate ninja experience
Easy-to-learn controls allow players to execute combos
描述
Believe
http://www.play-asia.com/naruto-clash-of-ninja-revolution-2-paOS-13-49-gb-70-2r99-47-cat.html
it! NARUTO, the reigning property for boys 9-14 on television and online, battles onto the Wii platform again with NARUTO: Clash of Ninja Revolution 2. NARUTO: Clash of Ninja Revolution 2 has an all new original storyline created for the North American audience and features the largest character roster yet for the Clash of Ninja series. The latest iteration of the hit fighting game represents a huge progression from the previous game, including never-before-seen modes, improved visual presentation, and polished gameplay mechanics. http://www.play-asia.com/naruto-clash-of-ninja-revolution-2-paOS-13-49-gb-70-2r99-47-cat.html. Players can intensify special ninja techniques or perform "hand signs" mid-battle with the Wii remote; or opt for the Classic or the GameCube controller for a more traditional fighting game experience. The only four-player NARUTO fighting game series available, NARUTO: Clash of Ninja Revolution 2 will support widescreen (16:9) and progressive scan at 480p.
进一步讯息
发行日期
Oct 27, 2008
类型
格斗
版本
美国
ESRB Teen
只适合13岁以上人士。 此类别可能含有暴力内容,温和或粗俗语言, 及/或挑动色情的题材。
PAX-Code
PAX0002187118
目录号。
RVL-P-RNYE
货品-代码
053941704032
游戏人数
1-4
有用的链接
客户评论
平均等级:

(4.5 来自 5)
总的投票:
15
显示最后5 个评论, 总共有 51 个评论。以下评论只代表客户的个人意见,一概与 Play-Asia.com 无关。
luisx4 (164) on 16, Jun. 2013 12:32 (HKT)
Believe it!!!
A great sequel, and the last Naruto game for the Americas and for the GameCube as far as I know.
It is far from perfect and nowadays with all the other great Naruto games out there for all the different consoles this game is pretty much obsolete, but if you like to revive history, or maybe just want to do a Jutsu on the GameCube, this is the one to choose!
I never played this particular version but as I played the first one and the Wii versions I just wanted to give it a try.
I don't regret it.
Total reccommendation, believe it!!!!!!
erikqkh (1195) on 14, Jan. 2012 03:55 (HKT)
Very fun game!
Very fun game!
Shadowsoffate (5) on 04, Mar. 2010 09:40 (HKT)
No title
excellent game, I enjoy playing it and so do my mates :)
nagama (1) on 16, Nov. 2009 04:51 (HKT)
good, I liked it.
I like all the Naruto games.
naruto_shippuden_ (1) on 15, Oct. 2009 17:47 (HKT)
great game
i likead this game its the best game i ever played
请点击此处查看更多评论
---
相关产品
---
---
---
---
---
打折物品
在我们网页内列出的商标是属于原有创作者所有。如您有关任何版权和商标问题,您可以 联系我们. Website & content copyright 2002-2013 Play-Asia.com.