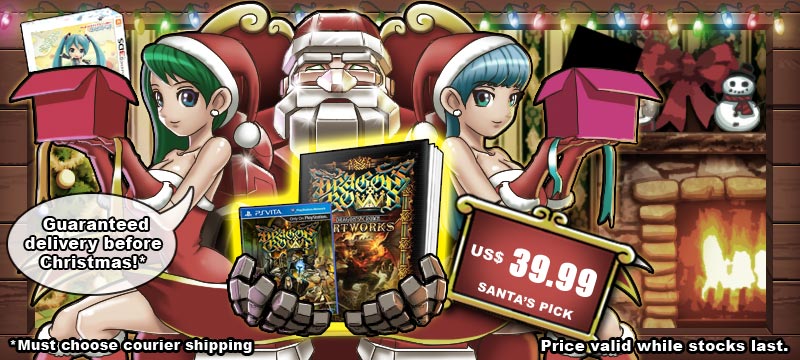 每周精选产品

Sorcery Saga: The Curse of the Great Curry God
A Rougelike about Curry? What's not to like!
US$ 44.99
即将发售
最受欢迎产品
Closing Auctions
Closing Auctions


现正发售!
Hatsune Miku: Project Mirai 2 [Puchi Puku Pack]
(音乐)

H
atsune Miku: Project Mirai 2 is an upcoming rhythm music game for the 3DS, and is drawn and designed by popular illustrator Nekoita, capturing the game's theme of a cute and perfectly round world. Mitchie M is confirmed to be the composer of the theme song; also included are all songs from Project Mirai, as well a the five currently confirmed ...
[read more]
---
现正发售!
Bravely Default: For the Sequel
(角色扮演)

J
apanese 3DS owners will be especially pleased to know that the enhanced version of Square Enix's 2012 handheld RPG masterpiece Bravely Default: Flying Fairy will have 6 languages to choose from: Japanese, English, French, Italian, German, and Spanish. Dual audio support in Japanese and English is also an option!  A quick primer for those unfamiliar with Bravely Default, this turn based RPG game is considered as ...
[read more]
---
发售日期: Dec, 2013
Gekijouban Madoka Magicka: The Battle Pentagram
(角色扮演)

P
opular Japanese Anime Jumps into Console: Artdink, the Creator of Dragon Ball Z: Battle of Z has just released Gekijouban Madoka Magicka: The Battle Pentagram; published by Namco Bandai and for the PS Vita, The Battle Pentagram is a full scale 3D Action game that is based on the popular Japanese anime television series Puella Magi Madoka Magica. Enjoy the exhilarating action ...
[read more]
新近发售
---
---
---
---
---
---
---
---
---
即将到货
打折物品
Ending in .
2244
available
Daily deals are changed at 22:00:00 HKT (10PM) Hong Kong Time.

最新消息
告诉朋友
在我们网页内列出的商标是属于原有创作者所有。如您有关任何版权和商标问题,您可以 联系我们. Website & content copyright 2002-2013 Play-Asia.com.