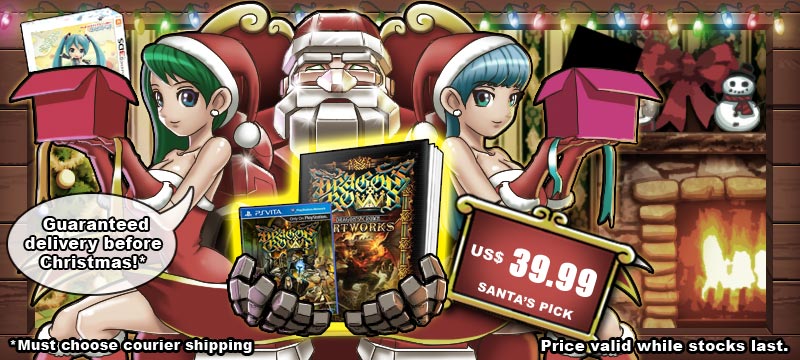 每周精选产品

Sorcery Saga: The Curse of the Great Curry God
A Rougelike about Curry? What's not to like!
US$ 44.99
即将发售
最受欢迎产品
Closing Auctions
Closing Auctions


现正发售!
Ys: Memories of Celceta
(角色扮演)

Y
s: Foliage Ocean in Celceta is an action role-playing game released in Japan on September 2012. It will be release in North America in September 2013 and is the fourth installment of Ys series. As Ys: Memories of Celceta is for the PlayStation Vita, certain features utilize the console's touch capabilities. Back touch panel of the console can be used ...
[read more]
---
现正发售!
Hatsune Miku: Project Mirai 2 [Puchi Puku Pack]
(音乐)

H
atsune Miku: Project Mirai 2 is an upcoming rhythm music game for the 3DS, and is drawn and designed by popular illustrator Nekoita, capturing the game's theme of a cute and perfectly round world. Mitchie M is confirmed to be the composer of the theme song; also included are all songs from Project Mirai, as well a the five currently confirmed ...
[read more]
---
发售日期: Dec, 2013
PlayStation 4 System - Battefield 4 Bundle Set (Jet Black) *** limited stock ***

T
he PlayStation 4 is an upcoming video game console from Sony Computer Entertainment. Moving away from the Cell architecture of its successor, the PlayStation 3, it will feature an AMD processor based around the x86-64 instruction set. This is intended to make video game development easier on the next-generation console, attracting a broader range of developers. Other notable hardware features of ...
[read more]
新近发售
---
---
---
---
---
---
---
---
---
即将到货
打折物品
Daily deals are changed at 22:00:00 HKT (10PM) Hong Kong Time.

最新消息
告诉朋友
在我们网页内列出的商标是属于原有创作者所有。如您有关任何版权和商标问题,您可以 联系我们. Website & content copyright 2002-2013 Play-Asia.com.