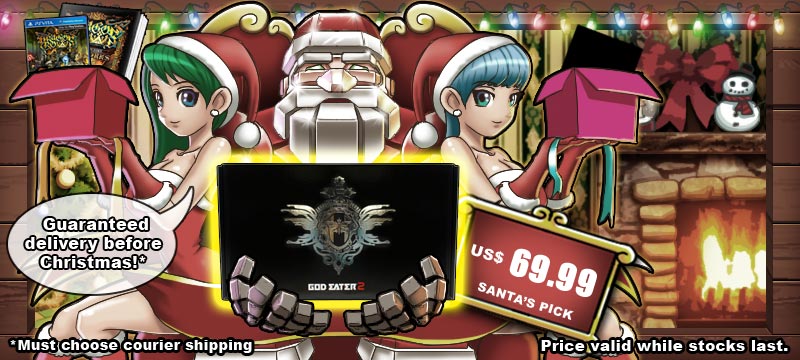 每周精选产品

Sorcery Saga: The Curse of the Great Curry God
A Rougelike about Curry? What's not to like!
US$ 44.99
即将发售
最受欢迎产品
Closing Auctions
Closing Auctions
发售日期: Dec, 2013
PlayStation 4 System *** daily price ***

T
he PlayStation 4 is an upcoming video game console from Sony Computer Entertainment. Moving away from the Cell architecture of its successor, the PlayStation 3, it will feature an AMD processor based around the x86-64 instruction set. This is intended to make video game development easier on the next-generation console, attracting a broader range of developers. Other notable hardware features of ...
[read more]
---
现正发售!
Hatsune Miku: Project Mirai 2 [Puchi Puku Pack]
(音乐)

H
atsune Miku: Project Mirai 2 is an upcoming rhythm music game for the 3DS, and is drawn and designed by popular illustrator Nekoita, capturing the game's theme of a cute and perfectly round world. Mitchie M is confirmed to be the composer of the theme song; also included are all songs from Project Mirai, as well a the five currently confirmed ...
[read more]
---
现正发售!
Hatsune Miku -Project DIVA- f [Best Price Version]
(音乐)

M
iku never rest, and Miku is always hip. She debuts on the PlayStation Vita in Next Hatsune Miku. Incorporating the new game play options, such as touch screens and back touch pads, the newest instalment lets you interact directly with her melodies. Besides presses, there are now scratches. See how much more challenges this move pose when you play to the ...
[read more]
新近发售
---
---
---
---
---
---
---
---
---
即将到货
打折物品
Ending in .
197
available
Daily deals are changed at 22:00:00 HKT (10PM) Hong Kong Time.

最新消息
告诉朋友
在我们网页内列出的商标是属于原有创作者所有。如您有关任何版权和商标问题,您可以 联系我们. Website & content copyright 2002-2013 Play-Asia.com.