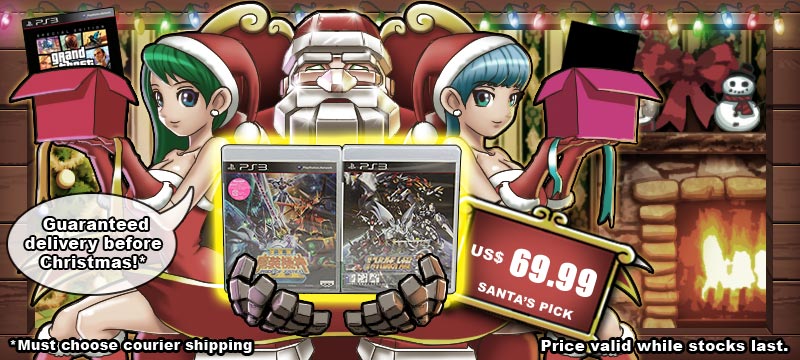 每周精選產品

Bravely Default: For the Sequel
A Spiritual Successor to Final Fantasy
US$ 49.99
將會發行
我們最受歡迎產品
即將結束的拍賣
即將結束的拍賣


現正發售!
AquaPazza: Aquaplus Dream Match
(格鬥)

A
quaPazza: From eroge to Fighting: Though originally released in Japanese arcades in 2011, AquaPazza is a new western PS3 entry in the 2D fighting genre and is heavily influenced by anime, huge combos and the unique AquaPlus/Examu Partner fighting system. Examu, the creators of the acclaimed Arcana Heart series have combined their fighting game expertise with AquaPlus and all the characters from the ...
[read more]
---
現正發售!
Xbox One Console System ***daily price***

B
e amazed. Welcome to a new generation of games and entertainment. Where games push the boundaries of realism. And television obeys your every command. Where listening to music while playing a game is a snap. And you can jump from TV to movies to music to a game in an instant. Where your experience is custom tailored to you. And the entertainment ...
[read more]
---
現正發售!
Super Robot Taisen OG Infinite Battle & Super Robot Taisen OG Dark Prison [Limited Edition]
(格鬥)

T
his entry for the famed tactical strategy RPG is breaking away from it's usual fare; Super Robot Taisen OG Infinite Battle is a third person shooting game! Infinite Battle is the exciting side story companion to Super Robot Taisen OG Saga: Masou Kishin III - Pride of Justice. Expect a brand new instance of alternate universe mech-on-mech tactical crossover battles with ...
[read more]
最新發行
---
---
---
---
---
---
---
---
---
即將登場
減價產品
每日交易於 22:00:00 HKT (10PM) 改變

最新消息
告訴朋友
在我們網頁內列出的商標是屬於原有創作者所有。如您有關任何版權或商標問題,您可以 聯絡我們Play Asia 及標誌屬 Play-Asia.com 所有的商標. 網頁及內容版權 2002-2013 Play-Asia.com.