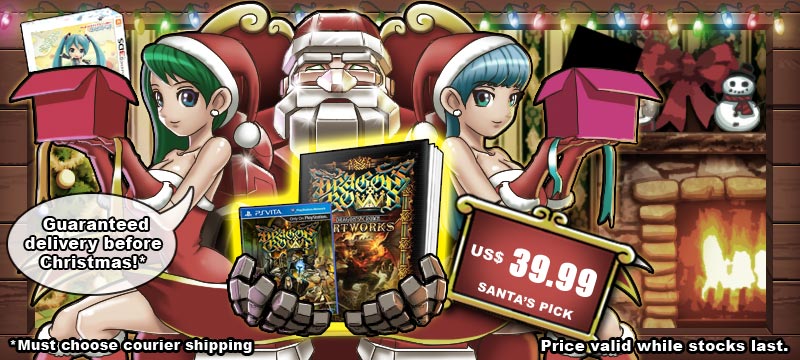 每周精選產品

Sorcery Saga: The Curse of the Great Curry God
A Rougelike about Curry? What's not to like!
US$ 44.99
將會發行
我們最受歡迎產品
即將結束的拍賣
即將結束的拍賣
現正發售!
Metal Gear Rising: Revengeance [Special Edition]
(動作探險)

M
etal Gear Solid Rising: Revengeance takes place three years after the Guns of the Patriots. War is no longer a business for the PMCs. Or so the people say. However, A new Cyborg technology that leaks out of the US tips the balance, and violence is ripping through the fragile peace once again. The cyborg soldier Raiden has to face his ...
[read more]
---
發行日期: 2014年03月06日
Hatsune Miku -Project DIVA- F 2nd
(音樂)

T
he Diva Is Back: Hatsune Miku: Project Diva F 2nd is the upcoming sequel to one of the most popular rhythm game franchises in existence. Virtual superstar Hatsune Miku returns with the entirety of her Vocaloid entourage in an encore performance with many of the themes from the previous title intact. As such, no rhythm game can make it big without a solid ...
[read more]
---
現正發售!
Shingeki no Kyojin: Jinrui Saigo no Tsubasa
(動作)

T
he most popular anime/manga of 2013 finally gets its own game for the Nintendo 3DS - fitting as the main means of traversal and attack is based on the high speed 3D Mobility Gear of the franchise. For those unfamiliar with Shingeki no Kyojin, the remnants of humanity are fighting for survival inside walled cities against mysterious titans whose motives seem to be the ...
[read more]
最新發行
---
---
---
---
---
---
---
---
---
即將登場
減價產品
每日交易於 22:00:00 HKT (10PM) 改變

最新消息
告訴朋友
在我們網頁內列出的商標是屬於原有創作者所有。如您有關任何版權或商標問題,您可以 聯絡我們Play Asia 及標誌屬 Play-Asia.com 所有的商標. 網頁及內容版權 2002-2013 Play-Asia.com.