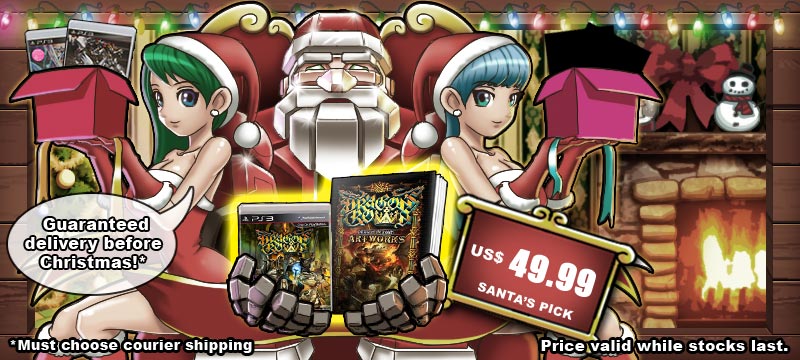 每周精选产品

Puzzle & Dragons Z
The Mobile Phenomenom for the 3DS!
N/A
即将发售
最受欢迎产品
Closing Auctions
Closing Auctions
发售日期: Dec, 2013
PlayStation 4 System - Battefield 4 Bundle Set (Jet Black) *** limited stock ***

T
he PlayStation 4 is an upcoming video game console from Sony Computer Entertainment. Moving away from the Cell architecture of its successor, the PlayStation 3, it will feature an AMD processor based around the x86-64 instruction set. This is intended to make video game development easier on the next-generation console, attracting a broader range of developers. Other notable hardware features of ...
[read more]
---
现正发售!
Gran Turismo 6 [15th Anniversary Box Limited Edition]
(赛车)

T
he next stage in the evolution of the world's most popular and comprehensive racing simulator - Gran Turismo - is upon us. GT6, the latest installment in the best-selling series, will reach stores this holiday season. Known for blurring the lines between virtual and reality, the Gran Turismo series has revolutionized the racing genre in the last 15 years, allowing fans ...
[read more]
---
现正发售!
Ryu ga Gotoku 5: Yume, Kanaeshi Mono (Playstation 3 the Best)
(动作冒险)

T
he clash between two big gangs brings the schemes and dark plots within the police force to the surface. And now the fragile peace is only protected through the vows taken between the gangs. However, upon the death of the big boss, everything falls back into chaos, and this time, the violence spreads out from Kamuro-cho, spilling all over Japan. Osaka, ...
[read more]
新近发售
---
---
---
---
---
---
---
---
---
即将到货
打折物品
Ending in .
887
available
Daily deals are changed at 22:00:00 HKT (10PM) Hong Kong Time.

最新消息
告诉朋友
在我们网页内列出的商标是属于原有创作者所有。如您有关任何版权和商标问题,您可以 联系我们. Website & content copyright 2002-2013 Play-Asia.com.