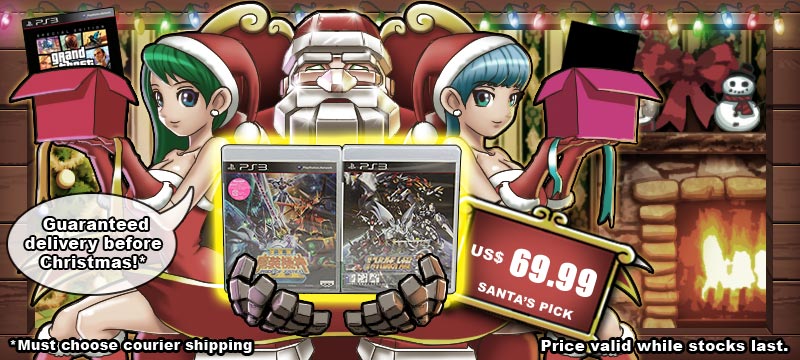 每周精選產品

Puzzle & Dragons Z
US$ 42.99
將會發行
我們最受歡迎產品
即將結束的拍賣
即將結束的拍賣
現正發售!
Gran Turismo 6 [15th Anniversary Box Limited Edition]
(競賽)

T
he next stage in the evolution of the world's most popular and comprehensive racing simulator - Gran Turismo - is upon us. GT6, the latest installment in the best-selling series, will reach stores this holiday season. Known for blurring the lines between virtual and reality, the Gran Turismo series has revolutionized the racing genre in the last 15 years, allowing fans ...
[read more]
---
發行日期: 2014年03月06日
Hatsune Miku -Project DIVA- F 2nd
(音樂)

T
he Diva Is Back: Hatsune Miku: Project Diva F 2nd is the upcoming sequel to one of the most popular rhythm game franchises in existence. Virtual superstar Hatsune Miku returns with the entirety of her Vocaloid entourage in an encore performance with many of the themes from the previous title intact. As such, no rhythm game can make it big without a solid ...
[read more]
---
現正發售!
Criminal Girls Invitation
(角色扮演)

G
ood to Be Bad Girls: Criminal Girls are bad news. So bad that they need rehabilitation by dungeon crawling through the Tower of Hell for the sake of reincarnation. So bad that they might not even listen to battle commands! So when that happens, it's punishment mode~ Punishment mode is a genre bending mechanic in its own right, and features these delinquent girls ...
[read more]
最新發行
---
---
---
---
---
---
---
---
---
即將登場
減價產品
每日交易於 22:00:00 HKT (10PM) 改變

最新消息
告訴朋友
在我們網頁內列出的商標是屬於原有創作者所有。如您有關任何版權或商標問題,您可以 聯絡我們Play Asia 及標誌屬 Play-Asia.com 所有的商標. 網頁及內容版權 2002-2013 Play-Asia.com.