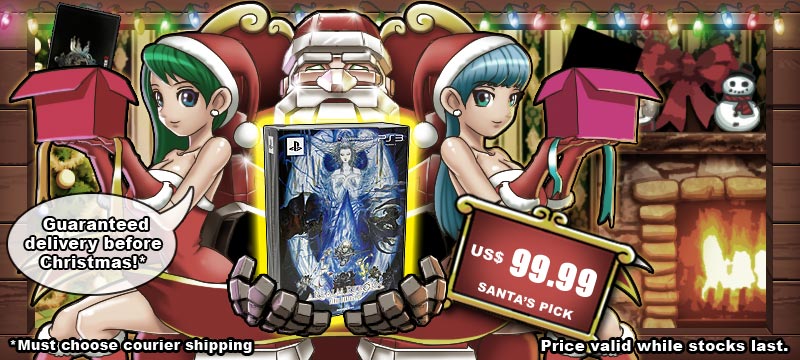 檢索條件
瀏覽更多
將會發行
我們最受歡迎產品
US$ 14.99
US$ 31.99
US$ 54.99
US$ 59.99
US$ 59.99
US$ 108.99
US$ 59.99
US$ 46.99
US$ 23.99
US$ 29.90
即將結束的拍賣
產品資料
按此可將縮圖變更大的圖像於
Raiden: Fighters Aces







兼容性
特點
All three Raiden Fighters games are included on one disc
Use the configurable Training Mode, with slow motion, level selection, ship configuration, and more. Try the standard vertical scrolling, full-screen side scrolling, or full screen vertical scrolling on a rotated display. Employ visual filters to simulate classic display types, or change the feel of the game
Post high scores to the leaderboards and gameclips for online and offline play
Play with a friend in two-player cooperative offline play
詳細描述
Raiden
http://www.play-asia.com/raiden-fighters-aces-paOS-13-49-zh-70-38mm-47-cat.html
Fighters, Raiden Fighters 2, and Raiden Fighters Jet; the names are familiar to any gamer. These legendary arcade cabinets came to symbolize extreme difficulty, neverending secrets, and the resultant devastating loss of quarter-based wealth. All three games have now been recreated and enhanced with new features on Xbox 360® for the ultimate collection, Raiden Fighters Aces. Practice any stage of any game in the incredibly configurable Training Mode. http://www.play-asia.com/raiden-fighters-aces-paOS-13-49-zh-70-38mm-47-cat.html. Rotate the gameplay, or rotate your entire display to play full screen. And, post high scores and gameclips to Xbox LIVE® for the world to see.
規格
發行日期
2009年05月18日
語言
English
類別
射擊
版本
美國版
ESRB Everyone 10
只適合 10 歲或以上人士。本物品可能含有少量暴力,漫畫式惡作劇及 / 或溫和語言。
PAX-Code
PAX0002569839
產品目錄號
564-707D3
產品編號
853333001523
遊玩人數
1-2
有用連結
客戶意見
平均等級:

(5 out of 5)
總共投票:
4
如果你熟悉這產品 Raiden: Fighters Aces, 何不跟我們分享你寶貴的意見 ?
顯示最後 5 個評論,總共有 12 個評論。 以下評論只代表顧客的個人意見,一概與Play-Asia.com無關。
malchitos (7) on 27, Jun. 2013 10:08 (HKT)
The god of thunder and lightning!
A series that has always brought much to the shmup table, continues to strive for greatness. These three games for one is an amazing deal at this price. Not to mention the variety of ships to choose from....besides the raiden series has the coolest laser effects! Should be in any shmup fan's collection!
fetuszero (16) on 02, Mar. 2013 23:59 (HKT)
Excellent games
I had little experience with Raiden, but it still was one shmup I didn't have on X360, so I had to add it to my collection. After playing it, I can say this is a must have for shmup fans. The collection has the 3 old Raiden games and they are pretty good. I'm happy to have added it to my collection. Lots of options, three games, three excellent games at that, definitely worth it if you can get your hands on it.
docomogame (236) on 06, Aug. 2010 01:16 (HKT)
Great Pack !!
3 IN 1 Discs for Shmup Fans , Old school style game , Blast them all
z2831 (10) on 01, Jul. 2010 21:28 (HKT)

cool game

Imation (69) on 18, Jan. 2010 07:02 (HKT)
Outstanding
Three games in one pack, many ships to select in each "raiden game" included in this pack, classic style old-school shoot'em... is simply awesome. RAIDENmania! arrive ONLY in xbox 360. Recommended
請按此查看進一步的探討於
Raiden: Fighters Aces
---
相關產品
您的私人情報員
如有任何疑難,請用電郵與我們聯絡 ...
告訴朋友
在我們網頁內列出的商標是屬於原有創作者所有。如您有關任何版權或商標問題,您可以 聯絡我們Play Asia 及標誌屬 Play-Asia.com 所有的商標. 網頁及內容版權 2002-2013 Play-Asia.com.