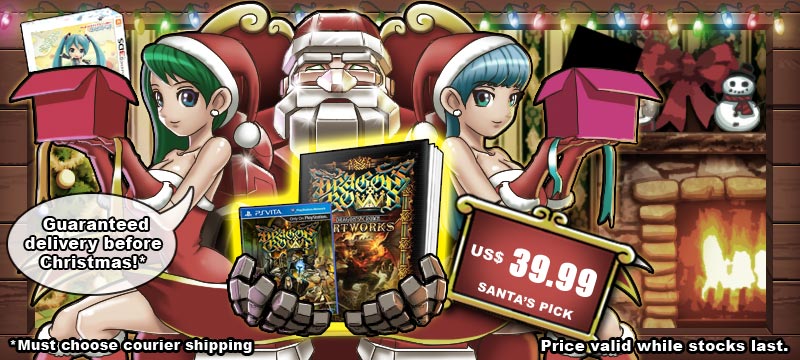 ä¯ÀÀ
̽Ë÷¸ü¶à
(µç×ÓÓÎÏ·, Nintendo DS™) (µç×ÓÓÎÏ·)
¼´½«·¢ÊÛ
×îÊÜ»¶Ó­²úÆ·
Closing Auctions
²úƷѶϢ
Shin Megami Tensei: Devil Survivor 2
Atlus
¼æÈÝÓÚ Nintendo DS (NDS)
ûÓÐÇøÂë±£»¤

more choices
1-2w
ͨ³£»áÔÚ1µ½2ÖÜÄڼijö
¼Û¸ñ:
US$
23.99
¼Û¸ñ±í£º
US$ 33.90
Äú´æΪ£º US$ 9.91
µã»÷²é¿´·Å´óµÄͼƬ




ÌØÕ÷
The spread of a mysterious website that offers a preview of people's deaths, and the great calamity that suddenly strikes Japan—mere coincidence, or part of something larger?
Adding tons of dimension to traditional party mechanics, players recruit new members to their team and then invest time into developing relationships with them. The closer the connection, the more effective they'll be in battle
Endlessly addicting, the task of discovering and enlisting new demons to aid you in battle is a staple of the Shin Megami Tensei universe
ÃèÊö
With
http://www.play-asia. http://www.play-asia.com/shin-megami-tensei-devil-survivor-2-paOS-13-49-gb-70-49mn-47-cat.html. com/shin-megami-tensei-devil-survivor-2-paOS-13-49-gb-70-49mn-47-cat.html
an all new story and cast, an expanded roster of demons to manage, vastly expanded party interaction, an all new soundtrack from composer Kenji Ito, plus a host of refinements and improvements over its predecessor, Devil Survivor 2 delivers everything fans loved about the first game: an intense narrative with multiple endings based on player actions, the beautiful visuals and sounds the SMT series is renowned for, the addicting challenge of collecting, customizing, auctioning, and fusing every last demon in the game, and much more.
½øÒ»²½Ñ¶Ï¢
·¢ÐÐÈÕÆÚ
Feb 28, 2012
ÀàÐÍ
½ÇÉ«°çÑÝ
°æ±¾
ÃÀ¹ú
ESRB Teen
Ö»ÊʺÏ13ËêÒÔÉÏÈËÊ¿¡£ ´ËÀà±ð¿ÉÄܺ¬Óб©Á¦ÄÚÈÝ£¬Îºͻò´ÖË×ÓïÑÔ£¬ ¼°/»òÌô¶¯É«ÇéµÄÌâ²Ä¡£
PAX-Code
PAX0003385040
Ŀ¼ºÅ¡£
NTR-P-TDVE
»õÆ·-´úÂë
730865400447
ÓÎÏ·ÈËÊý
1
ÓÐÓõÄÁ´½Ó
¿Í»§ÆÀÂÛ
| | |
| --- | --- |
| ƽ¾ùµÈ¼¶: | Ì«ÉÙÆÀÂÛ(ÖÁÉÙÐèÒª3¸öÆÀÂÛ) |
| ×ܵÄͶƱ: | 2 |
Èç¹ûÄúÊìϤÕâ¸ö»õÆ·£¬ºÎ²»¸úÎÒÃÇÒ»Æð·ÖÏíÄúµÄ¿´·¨£¿
ÏÔʾ×îºó5 ¸öÆÀÂÛ£¬ ×ܹ²ÓÐ 29 ¸öÆÀÂÛ¡£ÒÔÏÂÆÀÂÛÖ»´ú±í¿Í»§µÄ¸öÈËÒâ¼û£¬Ò»¸ÅÓë Play-Asia.com Î޹ء£
johnthephilosopher (3) on 02, Oct. 2013 21:09 (HKT)
A very good jrpg
Interesting story with multiple endings depending on your choices. The strategy elements (like the map and the teams) were quite welcome.

A nice entry on the Shin Megami Tensei series but not as good as Strange Journey.
luisx4 (164) on 16, Jun. 2013 11:39 (HKT)
A piece of art!!!!
The history isn't related to the first one but the gameplay is!
I like it a lot!!
Total recommendation!!!
louranssou (5) on 05, Jun. 2013 01:14 (HKT)
shin megami tensei.
a very good game ,I don't know this game before.this story are very good and the graphics too.
Lord Kite (47) on 11, May. 2013 12:54 (HKT)
Best Devil Survidor!
The characters are mostly an attractive background that we will discover as our bond with them is greater. Yes, I'm still staying with the characters from the first film that, in my opinion, have more charisma because here seem to have spent the money to increase bra size all female campus.
The scent of Person is achieved thanks to the inclusion of good will acquire skills to interact with the different characters. One of the most interesting is that sends demons from one character to another, which makes the strategy factor increase considerably in the fighting.
The battles are very well done and are not as problematic as the first boss battles juego.Los end of each day are one of the strengths of the game thanks to the strategy to use against each of them will be very different and weaknesses not only of them but by the design of the stage.
jobson.quaresma (79) on 26, Apr. 2013 10:06 (HKT)
Gorgeous
This one is one of my favorites games from the shin megami tensei series. If you played the first game this one is a must. This is not a direct sequel, the plot is completely different and has everything the previous version has and much more.
Çëµã»÷´Ë´¦²é¿´¸ü¶àÆÀÂÛ
---
Ïà¹Ø²úÆ·
---
---
---
---
---
´òÕÛÎïÆ·
¸öÈËÇ鱨Ա
Çë·¢ËÍÒ»·Ýµç×ÓÓ'þ¸øÎÒµ±£®£®£®
¸æËßÅóÓÑ
ÔÚÎÒÃÇÍøÒ³ÄÚÁгöµÄÉ̱êÊÇÊôÓÚÔ­Óд´×÷ÕßËùÓС£ÈçÄúÓйØÈκΰæȨºÍÉ̱êÎÊÌ⣬Äú¿ÉÒÔ ÁªÏµÎÒÃÇ. Website & content copyright 2002-2013 Play-Asia.com.