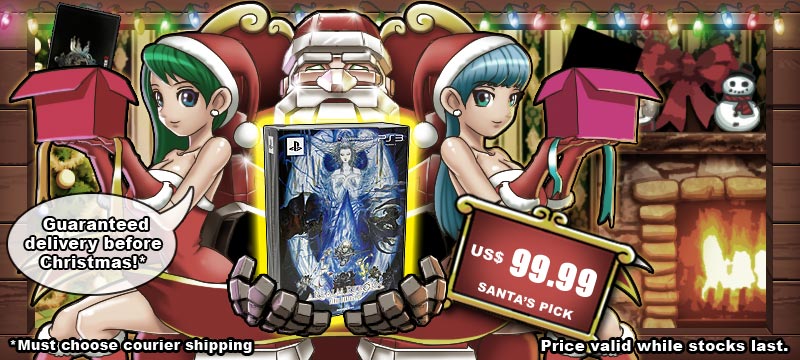 浏览
探索更多
即将发售
最受欢迎产品
Closing Auctions
产品讯息
描述
The
http://www.play-asia.com/venus-braves-majo-to-megami-to-horobi-no-yogen-paOS-13-49-gb-70-40x7-47-cat.html
strategy RPG Venus Braves was extremely popular on the PlayStation2™, its deep battle simulation system truly tests your abilities as a tactician. Vlad is an immortal warrior who lives in a faraway village with his merry bandits. Although he was rumored to be god killer and a demon on the battlefield, all he truly wants now is some peace. However, that is not to be, for the prophesied disaster started and he has to lead his men to battle monsters and mysterious forces even more powerful.
Visit the tavern and recruit your men. http://www.play-asia.com/venus-braves-majo-to-megami-to-horobi-no-yogen-paOS-13-49-gb-70-40x7-47-cat.html. To make your battles really work, you need attackers, defenders and healers. How you position them on the field and the sequence of their actions make world of a difference between success and failure.
进一步讯息
| | |
| --- | --- |
| 原本的名字 | ヴィーナス&ブレイブス ~魔女と女神と滅びの予言~ |
| 发行日期 | Jan 20, 2011 |
| 类型 | 角色扮演 |
| 版本 | 日本 |
| | CERO A (Free) |
| PAX-Code | PAX0003193212 |
| 目录号。 | ULJS-00308 |
| 货品-代码 | 4582224497362 |
有用的链接
客户评论
显示最后3 个评论, 总共有 3 个评论。以下评论只代表客户的个人意见,一概与 Play-Asia.com 无关。
jasa_order (395) on 08, Jul. 2011 18:26 (HKT)

A good game worth for collection :)
cohlint01 (29) on 26, Mar. 2011 10:53 (HKT)
rare game
In the game, I can create my own team to fight with any monsters in the battles.Amongst the team,there is a relationship between them. If the relationship between those two members is very close,both of them will be able to summon a strong spirit when they are together.Once both of them have become partners,it is possible to see the weddinng between them. If they have children,those inherit some abilities from their parents to create a more stronger teams.Besides that,there are many different types of people in different occuptaion can be recruited. Also, there are two events that can be occurred in the story. It depends on prediction from the goddess in the story.I like those new elements that have added into the game system and they are different from a normal RPG. All those new elements have made this game to become interesting.

uredream (172) on 25, Feb. 2011 10:29 (HKT)
Beautiful Graphic, Orchestra Sound & Tactical Battle!
This is mega-hit game conversion of PS2.
Player hires different types of companion to overcome
apocalypse together over hundreds years.
Beautiful graphic, and orchestra-like sound and the tactical battle will capture you for the entire playing.
I definately enjoy this!
---
相关产品
---
---
---
---
---
打折物品
个人情报员
请发送一份电子邮件给我当...
告诉朋友
在我们网页内列出的商标是属于原有创作者所有。如您有关任何版权和商标问题,您可以 联系我们. Website & content copyright 2002-2013 Play-Asia.com.