My Hero One's Justice 2: New Gameplay Video Featuring Deku & Overhaul!

My Hero One's Justice 2
PS4™, XONE™ & Switch – US, EUROPE, JAPAN & ASIA
A new gameplay presented! Finally for Boku no Hero Academia or My Hero Academia fans, there's a new update for the upcoming game, My Hero One's Justice 2, from Bandai Namco. So, are you ready for beyond plus ultra updates?
The game publisher has released a new gameplay video for My Hero One's Justice 2. In the video, it mainly highlights Izuku "Deku" Midoriya with his Full Cowling 100% against Kai Chisaki or also known as his villain name, Overhaul. If you pre-order the game, you will get them as early unlocks. Yes, Deku exceeds his limit using One For all quirk!
Watch the gameplay trailer below.
PS: Thanks, Gematsu! 
---
Let's fight for justice once again. However, it's getting bigger than ever. The fan-favorite characters are back even with more powerful quirks to use. Izuku Midoriya, Katsuki Bakugo, Shoto Todoroki, and more from the UA Class 1-A are back. But not only them because there are new characters to join the roster. Get on the battle on this 3D arena fighting game in which the heroes and the villains will fight for the ultimate test for righteousness.
---
So…
PLUS ULTRA! My Hero One's Justice 2 is coming to the PlayStation 4, Xbox One and Nintendo Switch. The US, EU & JP versions are now available for pre-order here at Playasia. Click the button below to reserve your copies right now!
PRE-ORDER NOW
Read more about the game >HERE<
---
EIJIRO KIRISHIMA PRE-PAINTED FIGURE NOW AVAILABLE FOR PRE-ORDER!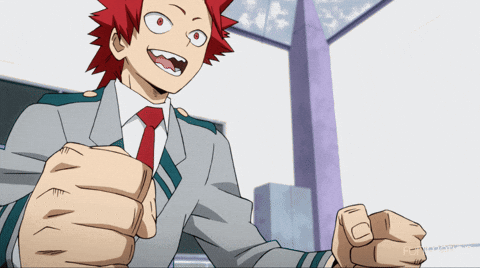 via GIPHY
---
【TRAILER】
【FEATURES】
THE BATTLE CONTINUES – Based on the hit anime series that features fan-favorite characters like Deku, All Might, Shigaraki, and many more
RELIVE ICONIC SCENES – Play through iconic and memorable scenes from the anime
BIGGER PLUS ULTRAS – Pull off explosive quirks with all of your favorite characters
TEAM UP WITH MORE CHARACTERS – Build your dream team with 40 playable characters
【SCREENSHOTS】
PRE-ORDER NOW
---
© 2020 Playasia. OK to reproduce if copyright note stays intact.