My Hero One's Justice 2: Kendo Rappa Joins the Fray + New Mission Mode!

My Hero One's Justice 2
PS4™, XONE™ & Switch – US, EUROPE, JAPAN & ASIA
Boku no Hero Academia/My Hero Academia fans out there, a new villain will join the fray in the upcoming game from Bandai Namco, My Hero One's Justice 2. So, are you ready for the PLUS ULTRA with the newest character?
Villain Kendo Rappa will join the roster of the My Hero One's Justice 2. His quirk is "Strong-arm." His every attack has strong power and strong combat. With this quirk, it's favorable once you get down to your opponent. He's one of the Eight Bullets who serve for Overhaul and the Shie Hassaikai.
Plus, along with the announcement of Kendo Rappa, according to Gematsu, there's a new game mode entitled Mission Mode. In this game mode, you can create your dream hero's office. Acquiring those points from the missions you complete, you can develop your favorite My Hero Academia character. Scout also new allies with the coins you earn. Plus, not only heroes you can recruit but also the villains as well.
Check out the screenshots below.
Game Overview
Let's fight for justice once again. However, it's getting bigger than ever. The fan-favorite characters are back even with more powerful quirks to use. Izuku Midoriya, Katsuki Bakugo, Shoto Todoroki, and more from the UA Class 1-A are back. But not only them because there are new characters to join the roster. Get on the battle on this 3D arena fighting game in which the heroes and the villains will fight for the ultimate test for righteousness.
---
So…
PLUS ULTRA! My Hero One's Justice 2 is coming to the PlayStation 4, Xbox One and Nintendo Switch. The US, EU & JP versions are now available for pre-order here at Playasia. Click the button below to reserve your copies right now!
PRE-ORDER NOW
Read more about the game >HERE<
---
EIJIRO KIRISHIMA PRE-PAINTED FIGURE NOW AVAILABLE FOR PRE-ORDER!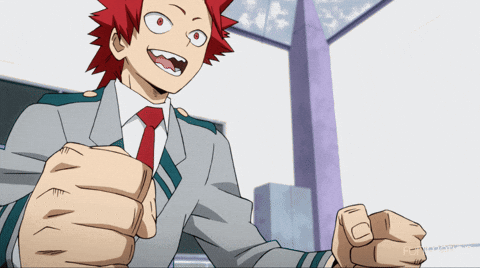 via GIPHY
---
【TRAILER】
【FEATURES】
THE BATTLE CONTINUES – Based on the hit anime series that features fan-favorite characters like Deku, All Might, Shigaraki, and many more
RELIVE ICONIC SCENES – Play through iconic and memorable scenes from the anime
BIGGER PLUS ULTRAS – Pull off explosive quirks with all of your favorite characters
TEAM UP WITH MORE CHARACTERS – Build your dream team with 40 playable characters
【SCREENSHOTS】
PRE-ORDER NOW
---
© 2020 Playasia. OK to reproduce if copyright note stays intact.