Jump Force Yoruichi Shihouin from Bleach DLC Coming on February 2

Jump Force
PS4™, XONE™ & Switch – US, EU, Asia & Japan
Get ready for the guys who are still playing Jump Force! Bandai Namco has revealed the launch date of the upcoming DLC character for Jump Force. Let's welcome Yoruichi Shihouin from Bleach on February 2. She will be available for $3.99 or for $17.99 as a part of the Character Pass 2. If you bought the Character Pass 2, you will get her on January 29. So, are you ready for her?
Watch the trailer below.
Thanks, Gematsu!
---
SO…
If you'll be getting the Character Pass and other DLC for the game, don't forget to grab your digital cards here at Playasia. Stay with us for more updates!
BUY YOUR DIGITAL GIFT CARDS HERE
---
Game Overview
In celebration of the famous Weekly Jump Magazine's 50th Anniversary, for the first time in history, the greatest heroes and villains from Manga are thrown into a whole new battleground: the real world. Uniting to fight the most dangerous threat, the Jump Force will bear the fate of the whole human race.
Honoring the 50th Anniversary of the legendary Magazine, Jump Force is also getting the most of the advanced technologies to bring the iconic characters from an exceptional true-to-life perspective.
---
Jump Force is now available for PS4, Xbox One, and PC. Don't forget to grab your copies here at Playasia! Click the button below to buy yours.
UNITE TO FIGHT!
Switch Deluxe Edition is now available!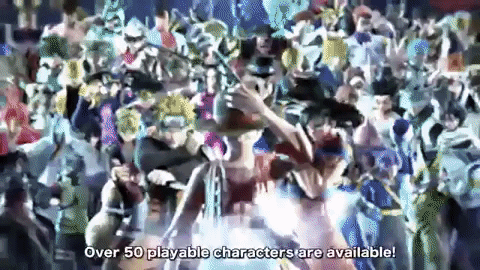 BUY NOW
---
For more information about the game, you can refer to the details below.
【TRAILERS】
【GAME OVERVIEW】
The greatest heroes and villains from the 50-year history of Shueisha's influential Japanese Weekly Jump manga will battle against each other across iconic locations across Earth in this anime fan's dream come true! Featuring the world's most popular and classic manga and anime franchises including Dragon Ball Z, One Piece, Naruto, and many others, players will be able to compete in hyper-stylish arena brawls set against familiar backdrops of famous landmarks around the world, including New York City's Times Square and the Matterhorn.
【FEATURES】
A unique setting, merging the Jump World and the Real World
The Jump Force, an alliance of the most powerful Manga heroes from Dragon Ball, One Piece, Naruto and much more
Realistic graphics bring Manga characters to life like never before
【SCREENSHOTS】
---
Read more about the game > HERE <
---
Join our Playasia Loyalty Program and earn Playasia coins for every purchase. You can also rank up to get even better Loyalty Program perks!
---
---
© 2021 Playasia. OK to reproduce if copyright note stays intact.